Tracy, Napitov+/ and Harley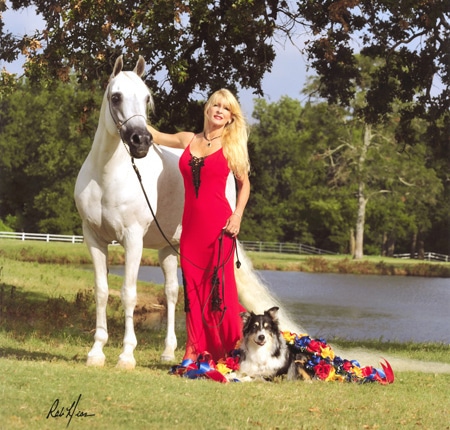 Life is always busy on a horse farm and Caruth Arabians is no exception. There's never a dull moment at the ranch. Tracy Caruth believed that breeding and showing her Arabians and Half-Arabians should be as much fun as it is hard work and perseverance. Tracy had a passion for her horses and their welfare and it carries over into everything she did. There were no half measures or short cuts in training on this farm.
Region 9-AHA
2010 Breeder of the Year
2010 Top 5 Amateur of the Year (40 & Over)
2010 Top 5 Amateur
2008 Rider of Excellence Champion
2008 Breeder of the Year
2008 Amateur of the Year (40 & Over)
2007 Handler of Honor Champion
2006 Rider of Supreme Honor Champion
2006 Horseman of Supreme Merit Champion
2005 Rider of Honor Champion
This short list doesn't include the multitude of other awards including U.S. Nationals Champions and Reserve Champions, Canadian Champions and Reserve Champions, Top Ten's both U.S. and Canadian, and numerous National Show Horse Champion and Reserves
He passion was not confined to the show ring with her participation with the Black Stallion Literacy Project, The Mounted Police, whether the Dallas, Albuquerque or Fort Worth, she was at their disposal anytime. Anyone who ever owned a horse from Caruth Arabians was a member of her "family", and she did love her family.
She will be missed by many but her legacy of Caruth Arabians will be carried on to be enjoyed by many more